This page may contain affiliate links. See full disclosure here.
&nbsp
Are you worried that your children are spending too much time in front of the screen and not getting the right skills that they need to succeed in life? Well, you might be on to something. Two out of three parents are worried that new concepts like smartphones and social media are making parenting difficult.
What if I told you that there was a fun way for your children to spend their time, which would not just engage and entertain but also educate them? That for once, technology can break your way? Welcome to my MakeBlock mBot Robot Review!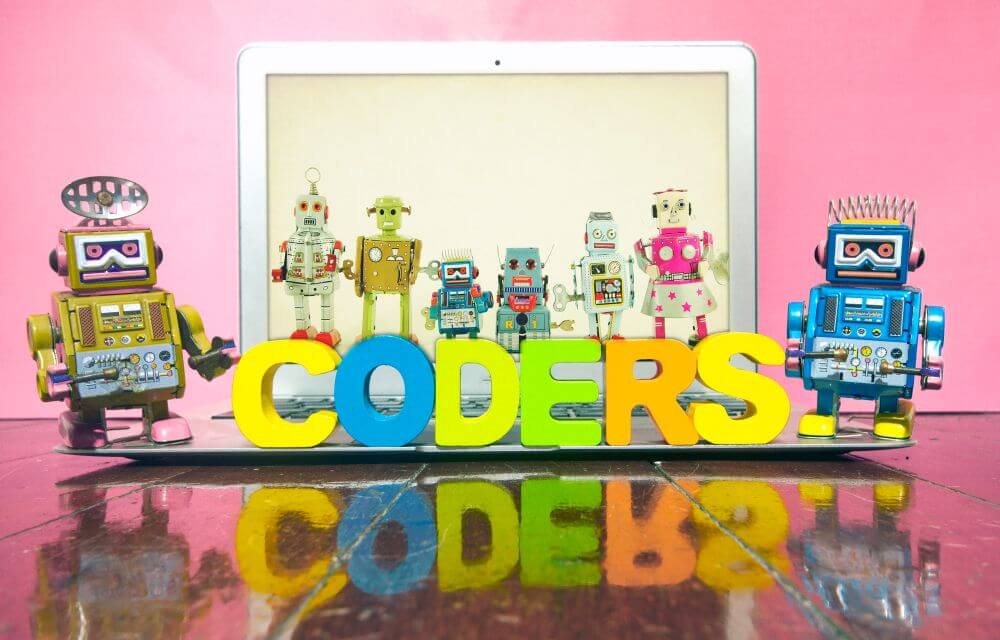 MakeBlock mBot Robot Review
The MakeBlock mBot is a STEAM education robot meant for beginners. It helps children learn about robot programming. It's part of a growing set of robotics toys created to make children future-ready for the tech economy.
With a simple app-based interface, the mBot gives your children a way to program a tiny little robot to do cool stuff like:
Run obstacles.
Follow a defined path.
Change directions.
And much more!
The benefits are manifold – but the one at the top of the list is that children don't have to give up on screentime, and you don't have to compromise on their learning time.
MakeBlock is a global leader in STEAM toys, with products selling in 140+ countries and nearly 15 million users. Many countries have incorporated MakeBlock products as part of their official curriculum. It was founded in 2013 by Jasen Wang, who is a robotics enthusiast.
Pros:
Amazing build quality.
Easy assembly and easy to use.
Block coding works like a charm.
The toy itself is super cute and kids love it.
Cons:
The more advanced coding modules don't work. They are written in an outdated version of the language computer language "Scratch 2.0".
MakeBlock mBot: Who Is It For?
As I mentioned earlier, this is an entry-level robot builder toy. Kids above the age of eight are old enough to understand the robot's exciting and straightforward programming methods.
If your children are addicted to their smartphone screens and love to do everything through apps, then this is a very promising robotics toy that you can explore. It will help develop logical thinking and give the children a flavor of engineering and technology, taking away some of the screentime from time-wasting apps, games, and social media sites.
But if you have younger children (five-year-olds), who you do not want to expose to smartphones, this might not be the perfect toy for you. We suggest "Botley the Coding Robot," a non-smartphone-based entry-level robotics toy with its remote programmer for younger children.
Sale
Last update on 2023-12-07 / Affiliate links / Images from Amazon Product Advertising API
MakeBlock mBot: Detailed Review
The Robot
The fun begins as soon as you open the box because the robot comes wholly disassembled. The first task is to put all the pieces together like a jigsaw puzzle.
But, it's not a complex puzzle, your kids can get it done in 20-30 minutes tops. There's a manual, video instructions, and even a 3D builder option that will help your children get it up and running in no time. The pieces are all color-coded; all you need is to put the right colors together, and voila! Your robot is ready to serve its master.
Once you have everything in place, you will find a cute and cuddly robot with a pleasant smile across his face and beautiful pink and blue colors.
The robot itself is a box-like thing that looks very cute. With its two large black-colored wheels and a white multidirectional single wheel in the front, the robot has a surprisingly high motion range.
Controls
There are two ways to control the mBot – the app way and the IR way. My clear focus was on getting the app up and running because it was a fun and natural way for my kid to control it.
He plays many other games, and this was just like a game for him, with a bit of a physical dimension added in (Pokemon GO, eat your heart out!).
The app connected with the robot quickly enough, and the interface was quite intuitive. There was a circular dial-like control for movement and an accelerometer-based option as well. You could even activate things like the buzzer and LED's on the robot with the app!
Batteries
The mBot uses 4 AA batteries. While AA batteries are staples for such kinds of toys and games, they tend to run down easily.
The battery replacement is a bit difficult – the battery pack is under the control board, so you need to unscrew it first.
There is an optional rechargeable lithium battery that you can buy as an add-on from MakeBlock, and if you love the little toy robot, then I suggest you buy it.
In-built Modes
There are three in-built modes for the mBot:
Obstacle avoidance: the robot walks in a straight line, it senses objects along the path and moves out of the way just in time.
Line follower: you chart out a path, it follows that path. You can make an eight-shaped path, which is more complex and fun to watch children's routes.
Manual control: the sky is the limit – you program the robot to move as per your directional commands, left or right.
These three modes are enjoyable to mess around with. My son especially loved the eight-shape that I talked about, that blew his mind!
Programming
While the in-built modes are fun, the real learning and benefits of the mBot are in programming it. That is where the STEAM principles sink into your kids.
To begin programming, you would need to connect the mBot to your laptop or computer via either USB or Bluetooth. I would suggest you use the old reliable USB method. Bluetooth is particularly notorious for getting disconnected.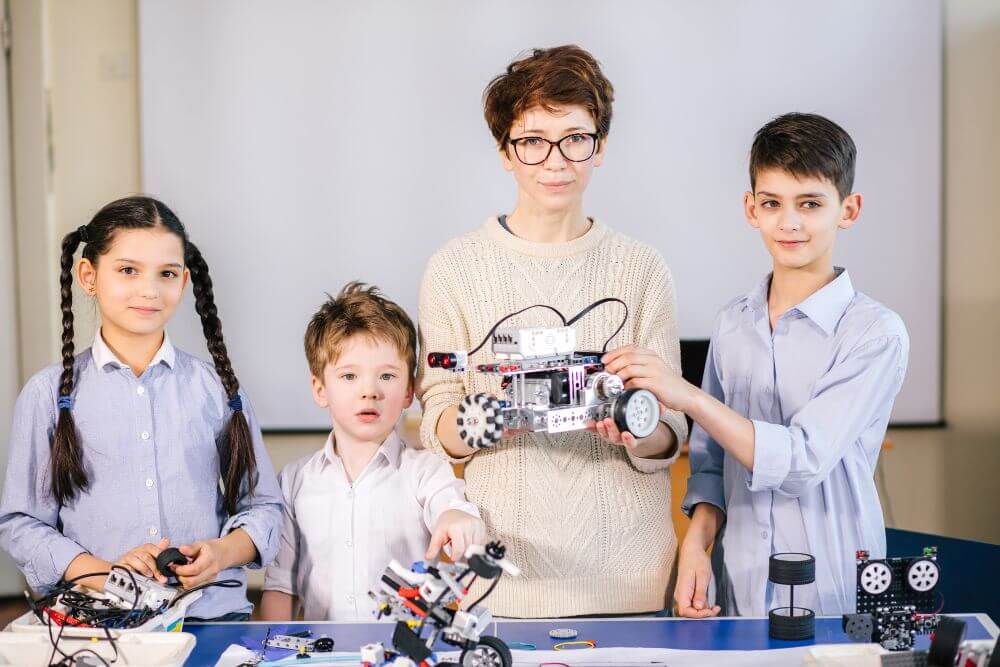 Once you connect, you can choose to program the bot using either the Arduino IDE or an object-oriented programming language called mBlock. The Arduino option is for more advanced coders. MBlock is what I used for my mBot.
However, if you are interested, the Arduino platform is something that one should give a try because it is one of the highest sought-after platforms in IoT, which makes a lot of sense if you want your child to get into technology later on.
mBlock is a graphical-based tool – it's like operating the icons on your phone or your laptop. Each block is a pictorial representation of what robot actions will perform when you click on that block.
By aligning the blocks in various ways, you can program the mBot to do specific tasks and even play certain games. mBlock uses Scratch 2.0, which is another popular language.
Add-On Packs
While solo, the toy is good enough to capture your kids' attention, it may not do enough to hold their attention for long. What can help you along is that the mBot comes with four expansion slots where you can connect entertaining add-ons.
Some good ones are:
Penguin kit: remember happy feet! The robot will dance, shake hands, and even tell jokes!
Six-legged robot: robotic locomotion is an important area of robotics studies. This expansion pack puts legs on the mBot instead of wheels. You can choose from frog legs to insect legs.
Servo kit: this expansion pack gives a wide range of motion to your basic mBot. You can get moving "hands," which can even wave at others.
Perception sensors: sensors which get the robot to detect things like weather, humidity, temperature, sound, and light.
MakeBlock mBot: What Other Parents Are Saying
I put the toy to the ultimate test and gave it to some of my other friends who have older kids. Below is what they had to say:
The look and feel are great, and kids like the fact that it's a cute little toy-like thing instead of the bulky robots that you think of every time you hear that word.
Nearly everyone appreciated the programming aspect. mBlocks is very easy to work with, and most kids took to it like fish to water.
I had also done a bit of research online before buying mBot and got similar feedback.
Wrap Up
I have always tried to get toys for my son to learn something, rather than just loud things that are fun to play with. That's one criterion that I have applied to every toy, and I am glad that the mBot was a success on this account.
Apart from the coding skills that my son learned, many things added value to the overall experience – logical ability, problem-solving, fine motor skills, and a better understanding of electronics, engineering, and a bit of mathematics.
Overall, the MakeBlock mBot was able to check the many criteria that a parent has for children's toys, and I would suggest you try it out for yourself. May you have as much fun as I did with my son!
Sale
Makeblock mBot Robot Kit, STEM Projects for Kids Ages 8-12 Learn to Code with Scratch Arduino, Robot Kit for Kids, STEM Toys for Kids, Computer Programming for Beginners Gift for Boys and Girls 8+
【Entry-level Coding Robot Toy】 Designed for learning electronics, robotics and computer programming in a simple and fun way, mBot robot kit is an excellent educational robot toys. From scratch to Arduino, this STEM projects for kids ages 8-12 helps kids to learn programming step by step via interactive software and learning resources.
【Easy to Build 】With clearly building instructions, this building kit can be easily built within 15 minutes with just a screw. Kids will learn more about electronics, machinery, and robotics components through building mBot. You can also play this STEM projects for kids ages 8-12 as a remote control car with its multi-functions: line-follow, obstacle-avoidance and so on.
Last update on 2023-12-07 / Affiliate links / Images from Amazon Product Advertising API
As a parent of a five-year-old inquisitive boy, I have gained a lot of experience finding fun activities and toys to help him understand science and understanding our world in general. On this blog, you'll find an extensive amount of tutorials, guides, and toys about Science, Technology, Engineering, and Math based on my personal experience to help your child develop critical STEM skills.