This page may contain affiliate links. See full disclosure here.
&nbsp
There is no denying that we live in an age of electronic gadgets. Kids are also attracted to the many technological and electronic devices that their parents use.
Keeping that in mind, the Kidizoom SmartWatch by VTech is doing a great job in introducing the technology to kids at a young age, still keeping them involved in physical activities and keeping the craze for sports and fun alive in them.
Vtech has been in the top-selling brands for kids' toys for many years. They provide many interactive electronic products to keep kids engaged for hours. The Kidizoom Smartwatch design is eye-catching, and the features are very tempting, even for adults. The price is affordable even though it is a one-of-a-kind smartwatch for little kids to explore.
Kidizoom is a kids' product and hence comes in funky styles. The belt is soft, reliable, and non-irritant, which is perfect for the kids' wrist.
It's more of a camera watch and meant for kids ages four to twelve years. The durable design and easy-to-use interface make it a popular gadget on the go.
The DX2 version is the new one with dual cameras, including a front-facing camera to take selfies. It is a more modern variant and has additional features than the older model DX.
Pros:
Kids friendly interface.
Fun games including physical activities.
Take photos and videos on the go.
Learning time with different watch faces.
Motion sensor.
Cons:
No GPS tracker.
The wristband is not detachable.
Only splash-proof.
Battery is non-replaceable.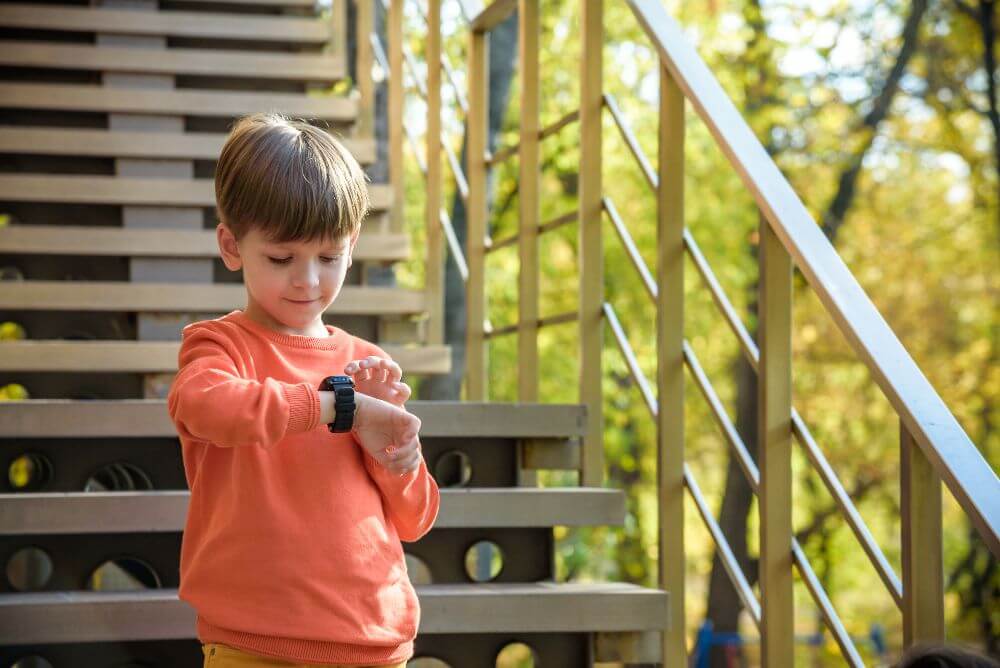 Things to consider before buying Kidizoom SmartWatch
VTech Kidizoom Smartwatch is not an activity tracker as it doesn't have GPS. But it does have a pedometer. Although it's full of fun and learning, you can also set the timer when needed.
Version DX2 has a selfie camera and some additional features but is a little costlier than DX. The belt for the watch can't be removed or detached.
The color options are blue, red, pink, violet, floral, swirl, camouflage, and many others. The watch is splash-proof only, and one should not submerge it in water.
Features
Kidizoom Smartwatch DX2 is the perfect watch with dual cameras for the kids. It's very kid-friendly, reliable, and fun as they can play games, take photos, selfies, and videos, edit them and show them to others. The design is just like any smartwatch with bright colors, more stylish and durable.
The smartwatch come
s with basic features as well as some additional ones, such as:
1.4-inch screen.
The rechargeable battery comes with a micro USB cable.
Kid-durable design to withstand drops and bumps.
Touchscreen – kids friendly.
Various options of colors to choose from.
Dual cameras for photo and video.
Photo effects and frames/filters.
Playback voice, pics, and videos.
Alarm clock with fun tones and animation.
Calendar.
Timer, stopwatch.
Voice recorder.
Voice changing effects (fun feature).
Fun learning games
Motion sensor.
Pedometer.
Action challenges.
Fun Activities.
55 plus changeable watch faces (selfies or photos also possible).
Sweat-proof, splash-proof (NOT waterproof – don't submerge).
Educational Vtech Library access.
Learning Lodge access for more downloads.
Design
The super stylish look with more durability makes it very attractive for kids. The smartwatch is robust enough to handle kids' drops and bumps. The bright and clear touch screen is simple to navigate and intuitive for kids who may be using this kind of technology for the first time.
To the left of the display is the Home button. There is a camera button and a mini USB 2.0 port with a removable plastic panel on the right side.
The camera is on the top side towards the belt. The additional front-facing camera is on the screen for taking selfies.
The touchscreen is 1.4 inches, and kids can control the watch straight from the display. There are more than 55 analogs and digital watch faces to choose from and tell the time.
Mini-USB 2.0 port lets you recharge it through a standardized connection and transfer the data rapidly.
The watch's face is splash-proof (not waterproof) so that kids can freely play without worrying about sweat and water drops. But one should not submerge it in water, and it's not suitable for showering or bathing.
Cameras
The camera to capture photos and videos is towards the belt, and kids can point, aim and shoot. One more front-facing camera is there to capture the selfies. You can customize photos and videos with funny filters, frames, and clip arts and use them as watch faces.
The 0.3-megapixel camera on its top takes still images of 640×480 pixels resolution in standard .jpg format. It can record 320×240 pixels or 160×120 pixels videos in .avi format. The video length can be up to one minute. Although the quality is not outstanding, it is perfect for kids to experiment.
Various Activities
The Kidizoom Smartwatch has various action challenges, inbuilt fun games, and fun activities that use the built-in motion sensor. The sensor allows the watch to use apps that rely on detecting motion. Apart from inbuilt games, you can download more games from Learning Lodge.
The games are Tic-Tac-Toe, Jumping Egg, Music Town, Super Snowboard, and Super Boarder. There are different games in both versions.
The three activities include Monster Identity, Funny Face Detector, and Sound Shaker.
And the three action challenges are Funky Jump, Crazy Dance, and Racing Run.
It also has a pedometer similar to Fitbit that can count steps or any movement. This smartwatch has an alarm, calendar, and stopwatch too. The alarm clock has fun tones and animation, which kids love.
There is a microphone as well, and the voice recorder has five voice-changing effects. The kids love testing different sounds and playback them for fun.
Battery life
The smartwatch can last up to three days without being charged. You can charge the non-removable Li-ion polymer battery via micro USB cable (provided in the box) from a laptop or computer. One should not try a different third-party adapter as it may damage the product.
Low usage – 2 weeks.
Typical usage – 2-3 days.
Heavy usage – 1 day.
The heavy usage of cameras and activities will certainly drain the battery faster. You should use the switch On/Off button wisely to save battery life. You should charge the Kidizoom Smartwatch before using it for the first time, just out of the box.
Storage and Parental Control
The version DX of Kidizoom Smartwatch by Vtech has a total internal memory of 128 MB, whereas DX2 has 256 MB. 256MB isn't huge but sufficient for kids to play around. The 256 MB capacity is more than enough to hold around 1500 photos and 10-25 videos accordingly.
You can copy the content to the laptop and reuse the memory. You can expand the memory with a micro SD card too (not included). The watch will appear as a removable drive called Vtech####.
The second generation of this smartwatch has parental controls as well. You can set the time limit to 30, 60, 90 minutes, or no limits per day. For school hours, parents can freeze games remotely, too, with the Freeze Play feature.
Value for Money
The price range varies with various offers available on the selling sites. The price for this amazing Kidizoom Smartwatch is not too high and can be a great gift. This low price makes the Kidizoom Smartwatch by Vtech a perfect Christmas gift.
The learning and fun activities, the usage of cameras and editing pics, and many other regular tools like timer, alarm, calculator, etc., are packaged in this tiny little watch. It has great value for your money invested.
Reviews
The reviews on different selling sites are very positive, and many grandparents have gifted this gem to their grandsons and granddaughters on Christmas. Reviews mention that the kids have almost stopped asking for their parent's mobile and love their smartwatch instead.
The kids have navigated easily and understood the features faster and better than grown-ups. Moreover, it's making them play around and do physical activities too, which is needed currently. Kids love having pedometers and count the steps, mocking adults.
Conclusion
As per the technical specifications, the Kidizoom Smartwatch is an awesome gadget for kids. It's a great interactive tool with many activities. The micro USB cable allows you to transfer additional games from the computer as well. The screen size is perfect for the Kid's range mentioned.
However, while this smartwatch has many features, parents would be really happy and more relaxed if it had a GPS tracker. We hope that the next version of Kidizoom Smartwatch will have the required feature to make it a perfect all-in-one smartwatch.
Every kid will love this fun and educational Kidizoom Smartwatch. They can play with the cameras to take pictures and videos and make real artwork by editing them. The other tools are quite helpful in day-to-day usage, and the required parental control is sufficient to make the smartwatch a fun and learning experience.
Check out these amazing products for your kids yourself:
Sale
VTech Kidizoom Smartwatch DX - Camera, Royal Blue
Perfect for young photographers, this durable Kidizoom Smartwatch DX by VTech makes it easy to take photos and record videos on the go
The new G-sensor adds active play with a simple pedometer, fitness challenges and motion activated sound effects
Last update on 2023-09-23 / Affiliate links / Images from Amazon Product Advertising API
VTech KidiZoom Smartwatch DX2, Black
Stylish, kid-friendly design; secure, splash proof wristband is perfectly sized for kids' wrists
Take quality videos, pictures and selfies, customize them with funny filters and make them into watch faces
Last update on 2023-09-22 / Affiliate links / Images from Amazon Product Advertising API
As a parent of a five-year-old inquisitive boy, I have gained a lot of experience finding fun activities and toys to help him understand science and understanding our world in general. On this blog, you'll find an extensive amount of tutorials, guides, and toys about Science, Technology, Engineering, and Math based on my personal experience to help your child develop critical STEM skills.