This page may contain affiliate links. See full disclosure here.
&nbsp
Kids are born scientists; they learn from experience, observation, and inquiry. You can make this journey even better by doing fun activities with them.
Kids also love dinosaurs! They are a fun and favorite topic for every kid born after the '90s when 'Jurassic Park' came out.
So today, we will talk about a fun experiment that involves dinosaurs and teaches valuable scientific learning as well: "How to make dinosaur eggs hatch!"
This fizzy, colorful and messy experiment is excellent for all ages. You and your kids can both have fun doing it. With simple ingredients that you can find around the house, you can make dinosaur eggs. We will show you how to make them hatch and let the baby dinos loose on your home!
Sounds interesting? Let's get to it then!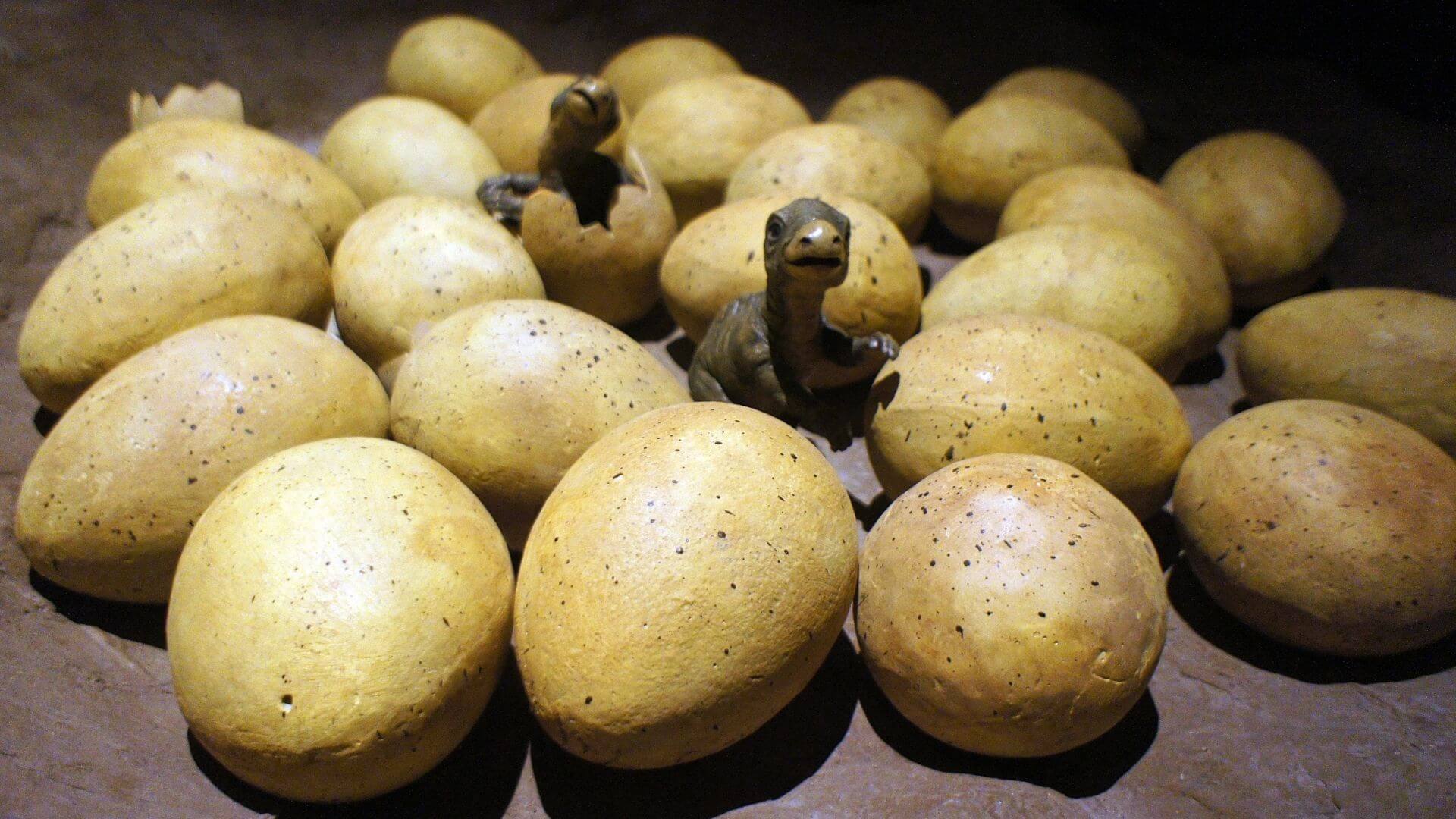 How To Make Dinosaur Eggs With Balloons?
One of the simplest ways to make a dinosaur egg is by using balloons. You can do it quickly, and it doesn't need too many ingredients.
What You Will Need
Balloons to fit in the small dinos (Don't use water balloons. Water Balloons are not large enough to hold the dinos inside them. A regular balloon will serve the purpose and fill nicely at the sink.)
Mini dinosaurs to be placed inside the balloons
A bin for melting and storing luke-warm water
Squeeze bottles or meat basters or eye droppers
Step-By-Step Guidelines
Blow up a balloon and hold the inflated balloon for 30 seconds or more to stretch it out. You can ask all the junior participants to inflate a balloon each.
Stretch open the balloon and place inside it a dinosaur. Let the kids try on their own and help them whenever needed. Ultimately it's teamwork!
Get the balloon filled with water and tie up the balloon.
Place the balloon into the freezer and wait for a while.
As the balloons get frozen, cut off the tie and get the balloon peeled off.
It's Time To Hatch the Eggs!
Take out the dinosaur eggs from the freezer and cut off the knots. The balloons will start melting, which looks like the egg is opening, letting the little dinos hatch!
The Science Behind It
Melting dinosaur eggs isn't just a preschool or toddler activity; adults will love it too. You can introduce the concept of states of matter and melting of solids. It's a great way to make them get familiarized with science.
How To Make Dinosaur Eggs With Salt Dough
It requires simple pantry ingredients. Follow these simple steps and get your dinosaur eggs ready (for hatching).
What You Will Need
2 cups of flour
1 cup of salt
½ cup of luke-warm water
Plastic dinosaurs
Plastic dinosaur skeleton
Step-By-Step Guidelines
Take a bowl and add the flour and salt.
Add water, a little bit while mixing into the dry mixture. You can use spoons for mixing and ask the kids to help you. The mixture should be a bit sticky so that you can mold it into eggs.
Insert the plastic dinosaurs and shape them into dinosaur eggs.
Place the dough on a tray wrapped with parchment paper.
Bake this salty playdough for 230 minutes at 225 degrees till the eggs get hardened.
Get it cooled before handling.
It's time to hatch!
It's time to hatch the eggs. Kids can break the shells any way they like, and I'm sure they would love to see the baby dinosaurs coming out of the eggs.
Dinosaur Fossils
You can follow the recipe for making fossils as well. Just flatten the dough & press the dinosaurs & plants into the dough and bake. It's simple but full of fun.
How To Make Dinosaur Eggs With Baking Soda And Vinegar
Unlike the first two experiments, this one has a slightly complicated process. It involves using chemicals like vinegar and baking soda, so make sure that you or another adult is present while doing this experiment.
What You Will Need
Baking Soda
Water
White vinegar
Food coloring for baking soda
Small plastic dinos
Squeeze bottles or meat basters or eye droppers
Ensure that you have things in place as you need to place the dinosaur eggs into the freezer before they get hatched. You can also make a batch of dinosaur eggs and use them the following day for a fun-filled activity.
Step-By-Step Guidelines
Color the baking soda. Add drops of paint and mix baking soda. It's better to put on gloves, as you will be using baking soda. It prevents your hands from getting dyed.
Once baking soda gets colored, you need to add water. For one box of soda, take approx 1/4th cup of water. Add water to the colored baking soda, mix it thoroughly before adding more. Ensure that it forms a paste-like thing so that it may stick together.
It's time to turn the mixture into a dinosaur. Press in a dinosaur and add more paste to the sides and top till the dino gets covered.
Place the dinosaur egg on parchment paper and set it in the freezer. Wait for the mixture to get hardened.
Once the dino eggs get solidified, take them out of the freezer and place them in a large bowl.
Take a small dish with vinegar.
Ask your kid to wear safety goggles and gloves. Take a syringe filled with vinegar.
Squirt vinegar onto the mixture. The kids will love watching how the eggs get hatched and the dinosaurs come out.
The Science Behind It
The science behind the hatching dinosaur eggs is the chemical reaction between baking soda and vinegar. When baking soda (base) reacts with vinegar (acid), it leads to a substance called carbon dioxide.
The bubbles you can see and even feel as you place your hands close enough indicate the presence of gaseous carbon dioxide.
Making Dinosaur Eggs With Cornstarch And Sand
It's a simple and easy dinosaur egg recipe which the kids will love. It will give them a ton of fun to break open a surprise inside.
What You Will Need
2 cups of sand
1 cup of cornstarch
Plastic dinosaurs
Water
Step-By-Step Guidelines
Add cornstarch and sand, and mix them thoroughly in a bowl.
Pour water while stirring the mixture until the dough gets together. You can ask the kids to do the same and help them whenever needed.
Take a handful of dough and press the baby dinosaur inside. Add some more dough and form an egg shape and cover the dinosaur.
Repeat the process with the remaining dough.
Keep the mixture outside for about two to three days till the egg gets wholly hardened.
Now it's the time to get the eggs hatched and the dinosaurs will come out. Isn't it exciting!
It's time to hatch the eggs!
Kids can drop the eggs on the ground, break them open using their hands or a hammer.
DIY Frozen Edible Dinosaur Eggs
This DIY (Do It Yourself) edible dinosaur egg project is super easy and fun. However, it requires the supervision of adults and your kids should have the necessary cooking skills. Edible dinosaur eggs will make them entertained and well-fed. They will undoubtedly love it and ask for more.
What You Will Need
Solidified flour doughs
Three cup sets or jars
Food Coloring
Water
Ice
Step-By-Step Guidelines
Make doughs and add a cup of water. Ensure that the mixture is sticky enough to get molded into the eggs.
Place the dough on a tray wrapped with parchment paper.
Bake it for 230 minutes at 225 degrees till the eggs get hardened.
In the meantime, get the jars filled with 3/4th full of water and add food coloring to the mixture. You can ask your kids to use colors of their preference.
Place the eggs in the ice bath for five minutes and remove them. Rotate the eggs gently and knock them on a hard surface. It would be better to ask your kids to help you with cracking the eggs. It should be enough to let the colored water in, but the big chunks shouldn't fall off.
Place the cracked eggs into the cups with colored water. Get the eggs dipped in the dye overnight.
Take the eggs out of the water the next day.
Dinosaur Egg For Supper Anyone?
You get a delicious and colored dinosaur egg for your supper. To prepare dinosaur eggs, the little ones need to have some necessary cooking skills. I can tell you that the DIY eggs will be a hit among your kids.
Final Thoughts
These fun experiments will help in building a strong scientific foundation for your kids. You can start with things that they are already familiar with and use this as a foundation to build on. These are some of the questions that you ask the kids.
How long do you think that it takes for the eggs to hatch?
What do you think will happen when you add vinegar to the mixture?
What colors do you like the most?
What do you think will happen when the balloon eggs melt?
This experiment is a hit every time you do it! It's liked and appreciated by both adults as well as the kids. It is ideal for families with kindergarten and preschool children to participate together! Bubbly Dinosaur Eggs are relatively easy to make and are exciting.
Take the necessary precautions and guide the kids as needed. Enjoy and stay safe.
As a parent of a five-year-old inquisitive boy, I have gained a lot of experience finding fun activities and toys to help him understand science and understanding our world in general. On this blog, you'll find an extensive amount of tutorials, guides, and toys about Science, Technology, Engineering, and Math based on my personal experience to help your child develop critical STEM skills.